Interview with Judit Majoros - my mother
Printa's permanent, UNIQUE collection has been expanded with exceptional works by the mother of the brand's designer, Zita Majoros. You can read Zita's interview!
I have always looked up to my mother, she was a very important female role model in my life. As a doctor, he worked a lot, was determined and self-identified, but also creative. Now that he has retired, he has begun to live his passion for craftsmanship, but not in the way we would "expect" from a retired person: he started his own brand and got to know new methods - including sashiko and upcycling techniques - and his special, unique products are already are also available in Printa. His story can serve as inspiration for many of us: it's never too late to start something new!
How did you get started with upcycling and sashimi, and what attracted you to these techniques?
I only came to know the term "upcycling" two years ago, until then I used the term "recycling" without knowing it. By the way, did you know that the Cambridge Dictionary announced the word UPCYCLE as the word of the year for 2019?
I actually did my first "upcycling" project 60 years ago, when as a ten-year-old girl I made figures from cardboard rolls (toilet paper rolls), which I dressed in leftover rags (my grandmother was a seamstress), hair from washed wool, and eyes from buttons and beads.
My next noteworthy project was Native American clothing for the grandchildren, made entirely of used leather jackets, pants, used mistletoe jewelry...
I started making ornaments for the Christmas tree from the rest of the remaining beads: this is how my brand @ mnogo_htela_mnogo_zapocela was born!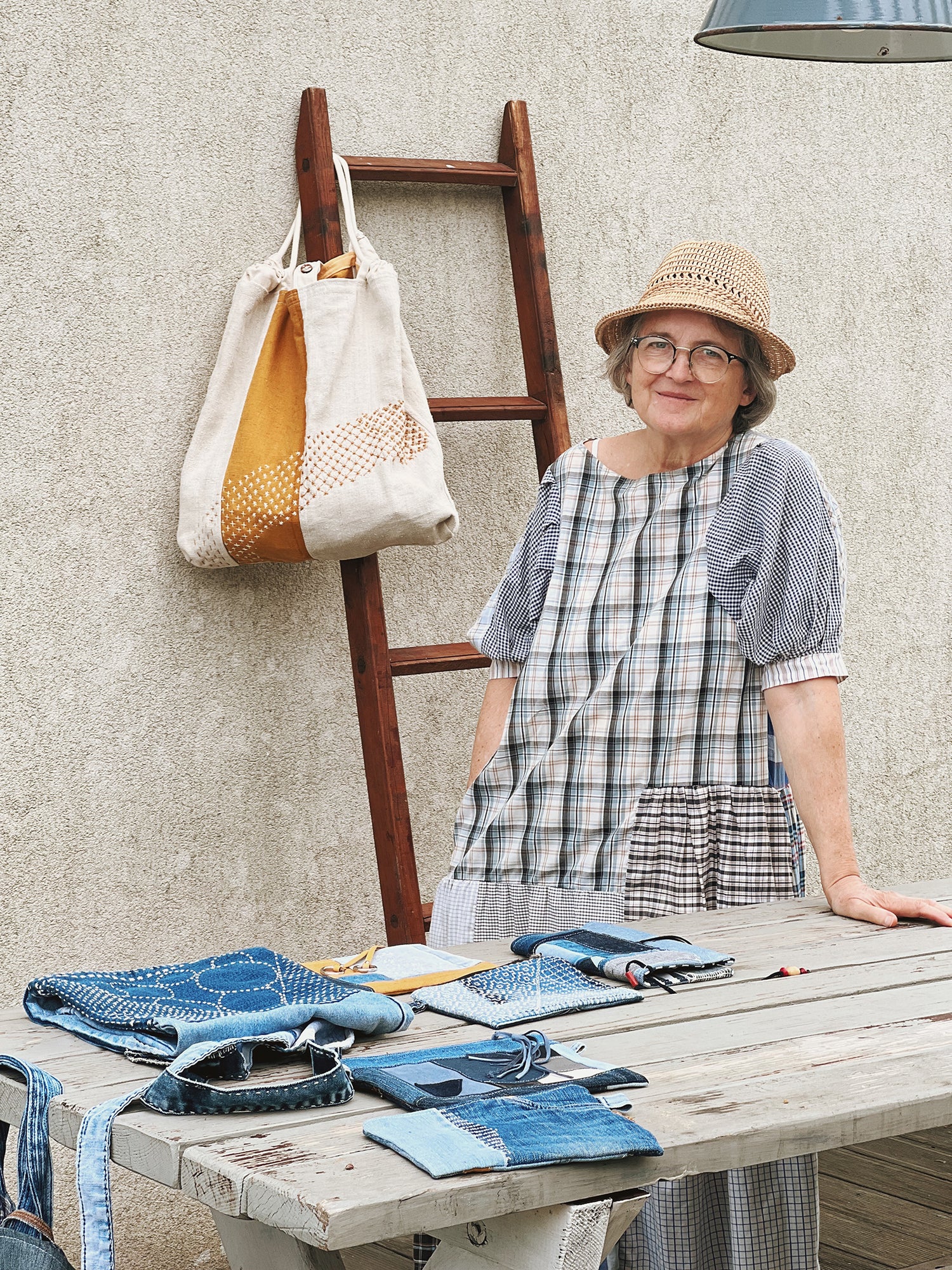 How did sashiko come about?
It's pure coincidence...
About 40 years ago, I sewed a large bedspread (2x2m) in patchwork style, made of cotton canvas, with various patterns and connected triangles. I loved it because somehow my husband and I had a joint project: I sewed until late at night, and he supported me mentally and took care of our two small children while I sewed. So I was very sorry when I noticed that it started to tear 6-7 years ago... Then I got to know sashiko - and the basic function of that ancient Japanese embroidery (repairing, patching, sewing) completely by accident. The result was perfect and it became my "permanent project" because over the years other parts were damaged, so the "repair" expanded. In addition to this basic function and the simplest stitch, I slowly got to know other patterns, which I also combine with my new love; with the appliquéd denim piece patchwork technique to create new, perhaps more valuable products.
What I haven't absorbed yet is the deep philosophy of this traditional Japanese embroidery - maybe someday!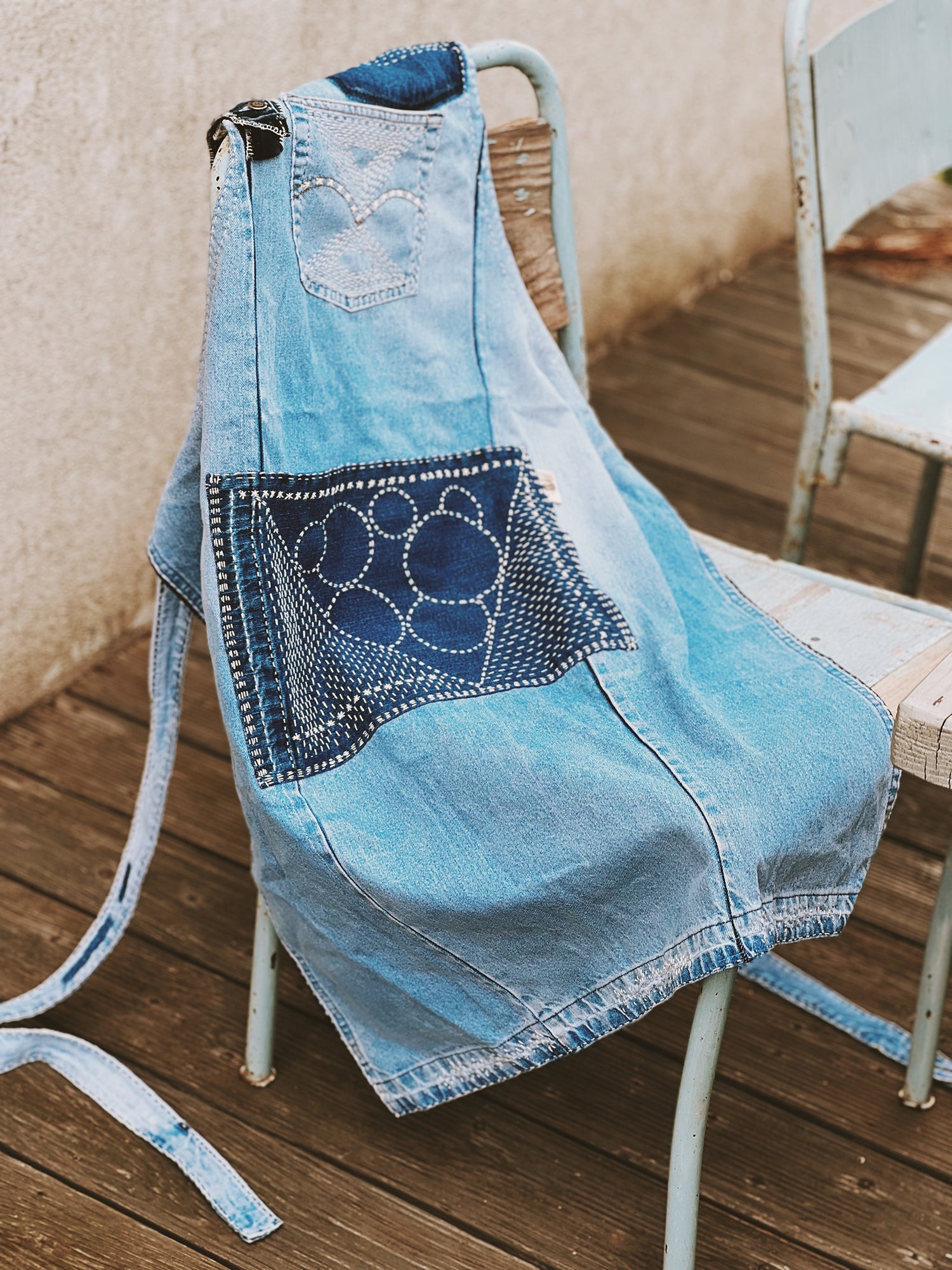 Can you explain the recycling process and how you incorporate sashiki into your work?
I'll try to explain this as briefly as possible. I try to combine my three loves: jeans (mostly used, discarded pants), patchwork sewing technique and the newly discovered sashiko embroidery, and I make different things: bags, wallets, tablet or phone cases, book covers, pen holders, bookmarks...
What types of materials do you like to "recycle" and where do you get them?
With very few exceptions, I try to work with used, discarded materials: mainly jeans (trousers, skirts, shirts), mostly men's shirts for lining, but I also use damaged leather handbags, shoe laces and even thread. The zippers are also recycled, "rescued" pieces, and even the thread is mostly used. Most often, I find all this at second-hand markets - so-called flea markets, or as my grandchildren call them: earth markets. More and more often, I am approached by friends and acquaintances who donate their outgrown or damaged clothes and threads...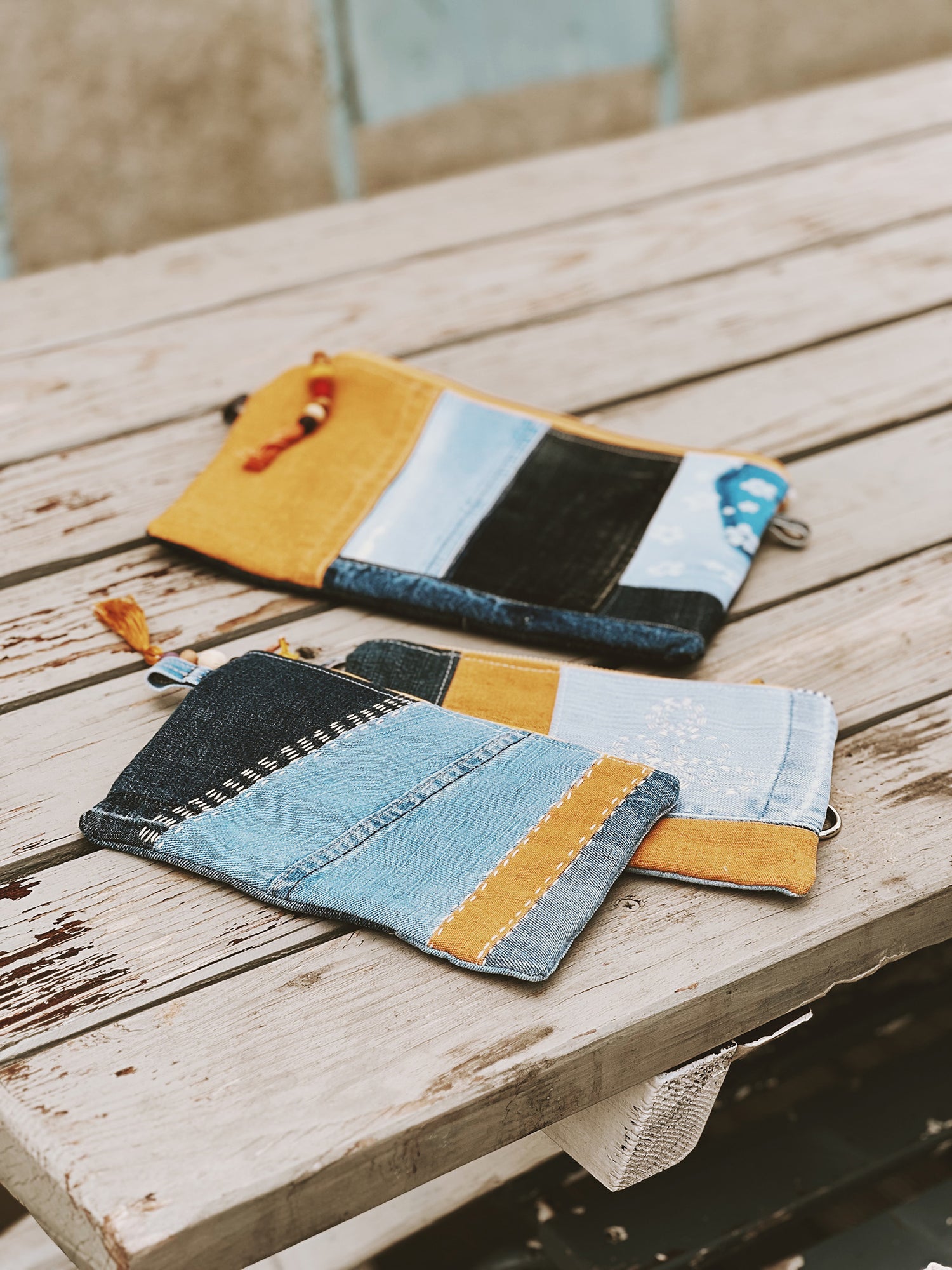 Did you face any challenges working with upcycling and sashiko and how did you overcome them?
Of course, during my work I learned that it doesn't matter what kind of jeans I find, the ones without elastane are practically the best, but their thickness is also important, because I only sew many parts by hand, which is very difficult with thicker and stronger materials: my fingers, sometimes even the machine (which, by the way, is almost a relic, I got it after finishing high school) can feel it very much. As for sashiko embroidery, there are no major problems with it, except that I can't find original thread and special needles in Serbia, so I'm satisfied with what I found. At one point, I found a large amount of cotton thread at a flea market - raw, undyed, in its natural form - I've been using it for the second year, and it goes very well with the colors of the blue jeans. Since I added a few more colors (orange, red and mustard yellow), I sometimes "color" the sashiko embroidery as well.
This is your second profession, which you can say you started later, how did it happen?
I wouldn't say it's my second profession... I've been a doctor since I was 5 years old - at least my parents said that's when I declared that I was going to be a doctor. I trained to be a pediatrician, but thank God I became an internist - I think I would have cried my whole professional life as a pediatrician. This was a real profession for me, which I lived as my own, I have never regretted or regretted choosing this path: I will always remain a doctor first and foremost. What I'm doing now, crafting, is a "little me" that has also existed in me since the beginning. It crept into my life in a few rare free moments and was a "need" that has now become a "NEED".
What advice would you give to someone who wants to start something new?
In short: listen to the "little me"!