Printa Crush - interview with Liliana Szilágyi
Zita has always been interested in people who create value in their field, which is why we started a new series of articles in which you can get to know them a little more closely - with whom we somehow fell in love.
Our love is not at all unfounded: Printa crushes are perfectly aligned with Printa's philosophy and visuals. The women appearing in the series have significant community-shaping and inspiring power: with their work and their whole being, they make the world a more liveable, beautiful and sustainable place.
Liliána Szilágyi has become a community activist from an elite athlete, who actively deals with self-image improvement and provides help for self-knowledge in different ways, following her own path. Together with his friend Zsombor Lengyel , they produce exciting, innovative content for social media, which is not only designed to convey a strong message, but it is also an exciting tool for experiencing Lilu's creativity among many others. Read on for the full interview!
What is your main goal that you want to achieve in the next 5 years?

I don't like to formulate specific goals, especially not to talk about them, because a lot of things can change and develop even in a moment... I prefer to write a feeling about the direction in which I want to find myself in the next five years. It is certain that I want to get to know myself and the workings of the world even more deeply and more concentratedly, this means a lot of learning and attention, which I want to do humbly and persistently. I have always been most interested in learning about the human soul and deeper thoughts, and I would like to put this into a more specific form. I would like to awaken my creativity, which is currently beginning to emerge in many forms, and thereby I would like to inspire people to dare to try new things and thereby get to know themselves.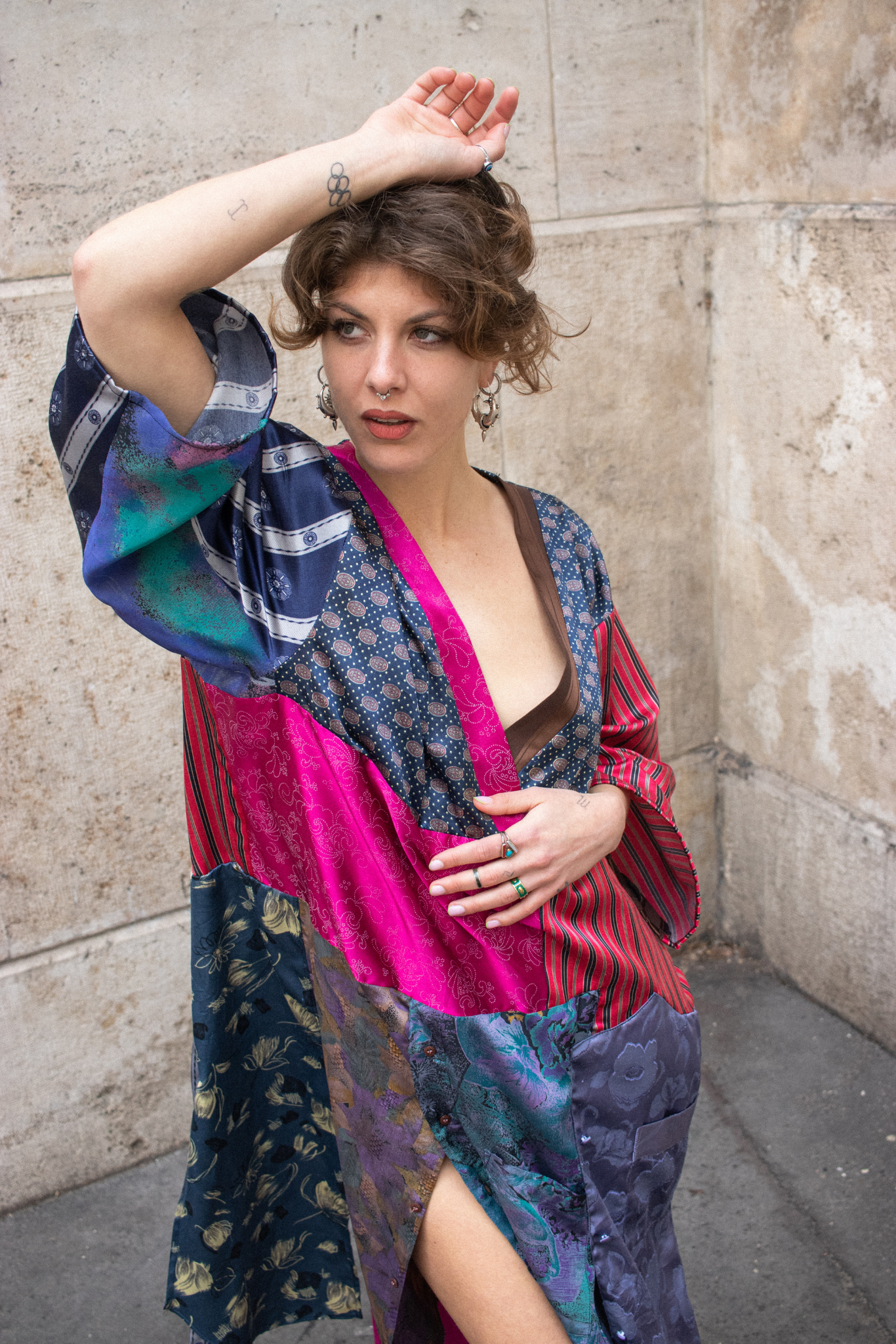 What does creativity mean to you and how does it affect your life?
For me, creativity is equal to self-awareness and courage, because I think being creative is essential in order to allow the feelings appearing in the deeper layers to be guided towards some outline. Creativity is a self-identified, liberating force, which is not a simple concept, but all the more valuable. Practicing the art of creativity is part of my daily routine, and I'm very happy to have made the space and time for it all.

How do you practice sustainability on a daily basis?
I admit, I would like to deal much more with the idea of ​​sustainability, but at the moment I am just getting to know a lot of things. What is certain is that I have noticed in the past period, both in dressing and even in eating, that I am becoming more and more conscious in response not to external pressure, but to an internal need. I think we owe this much to our Earth, as it wonderfully gives us everything, and I believe in the power of circulation, so this service must be given back somewhere.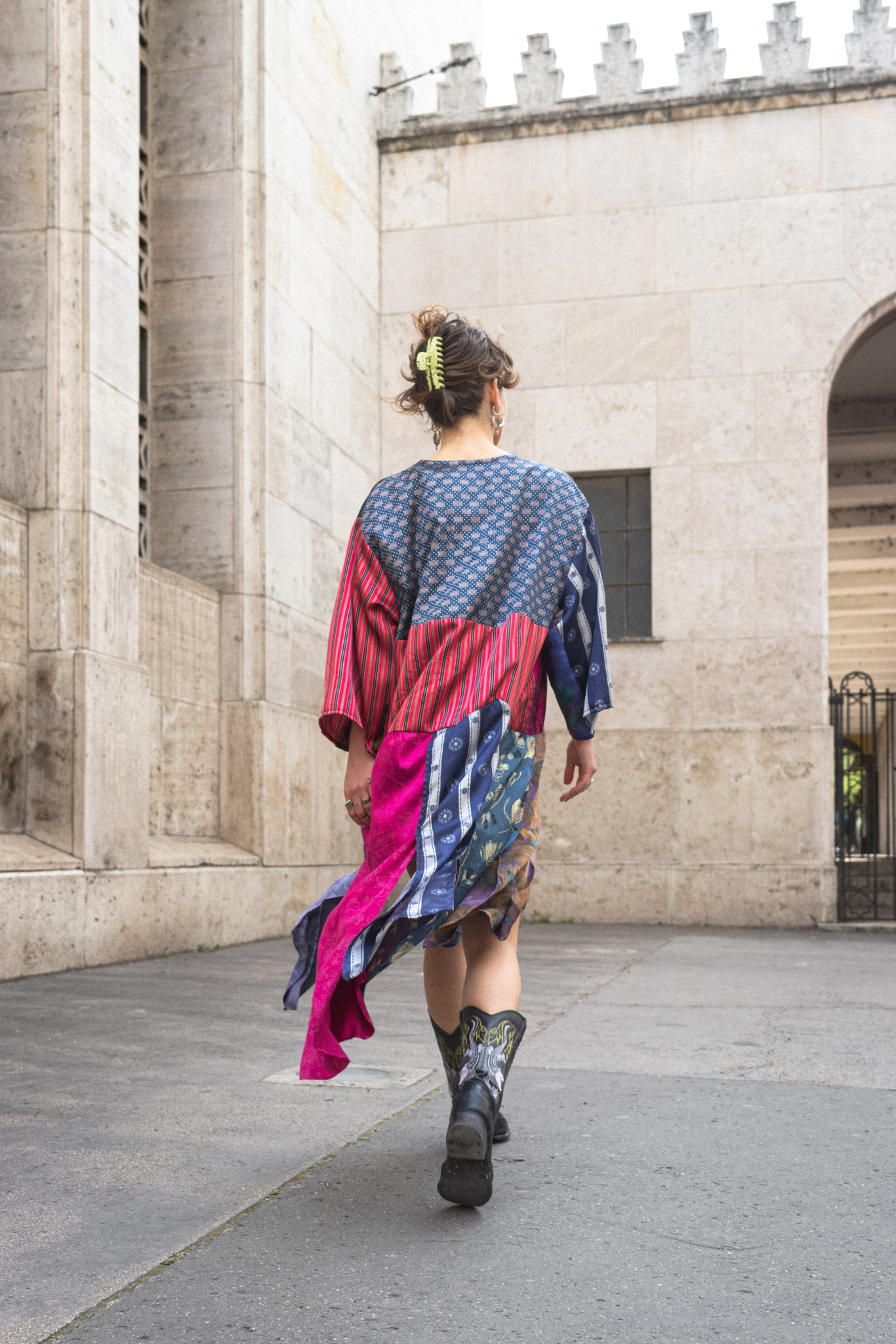 How would you describe your style, how has it changed in the last 5 years?
Huhh, that's a difficult question, because if I only look at the last couple of months, my style and dressing have already changed a lot. At the moment, I really enjoy being able to express myself more and more feminine and even sexier in my clothes. But I know that this is also a great adventure on the path of self-knowledge. What is certain is that I like comfortable, unique and extravagant pieces, and if it's about sustainability, I want to turn towards it more and more in my fashion and dressing! Perhaps what I could use to summarize my style is one sentence: continuous change and experimentation with new things.
Fun facts! Tell us something interesting, strange or funny about yourself!
Then let there be a story that happens in me and around me in response to these questions: I am in Guatemala in a beautiful, fairy-tale scene, sitting on the shore of a lake and sipping my morning coffee. I think about how perfect the nature that surrounds us is in a peculiar way, even though I always thought that I was a "big city girl", but here I realized that the most fulfilling and homely feeling for me is in nature... And surprisingly, I feel that I have arrived home on every level. I have found a stability in myself, and I can now pair this feeling with locations, and this gives confidence and happiness to my soul!
UNIQUE
Liliána Szilágyi wears Printa UNIQUE pieces in the photos. The permanent collection is made using the upcycling method, which means creating an object with a new meaning by using materials considered waste.
Visit the Printa store - 1075 Rumbach Sebestyén u. 10. - for the entire UNIQUE collection!